About the RV River Kwai Vessel
THE RV RIVER KWAI VESSEL
Enjoy a Comfortable River Kwai Cruise
The RV River Kwai, the first inland cruise ship in Thailand, is a newly built colonial style river cruiser based on designs used by the original Irrawaddy Flotilla which was founded in Burma in 1865 and by the 1920s was the largest privately-owned fleet of ships in the world.
Specifications:
Length: 120 ft / 36 m
Beam: 25 ft / 7.6m
Draft: 3ft / 90cm
Air Draft: 11.5ft / 3.5m
Tonnage: 155.69 tons
Engines: 2 x 200 hp Hino engines with inboard propulsion; propellers have 4 blades, 3ft diameter
Speed: 8 knots cruising
Power: 1 x 75 kva Caterpillar (recon) genset, 1 x 20 kva port/emergency genset, shore lines to bases on river
Cabins: 10 deluxe staterooms of 3m x 4m with own shower, water closet, air-conditioned, mini safes, etc.
Public Space: Upper deck is open plan with dining, bar and seating areas covered by a collapsible frame awning to enable vessel to pass under low bridges
Water Supply: Water tanks
Sewage: Holding tanks to pump out to on shore septic facility
Communication: Thai GSM cellular, FM Radios, PA system, Tannoy
Safety: Smoke detectors in all cabins, emergency lighting and generator, fire extinguishers, pumps and hoses, life jackets for all pax, life rafts, ship's motorized tugboat
Navigation: Ship's horn, Searchlights, Garmin GPS (Global Positioning System)
Amenities: Fully equipped kitchen, refrigeration units
Crew: Thai crews plus foreign cruise director.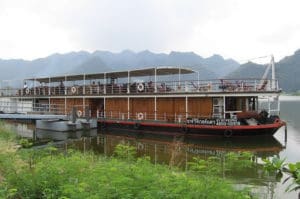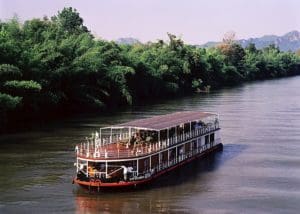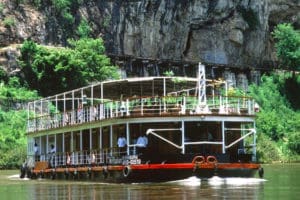 LUXURY ABOARD RV RIVER KWAI
Staterooms | Luxury Boat Cabins
Our Deluxe Staterooms offer a bit of luxury aboard RV River Kwai. As well, the cozy air-conditioned rooms provide a wonderful escape from the heat and humidity.
The ship features only ten cabins with ensuite private bathrooms, each facing outside and beautifully teak enhanced. As we travel along the River Kwai, you can enjoy and appreciate the scenery through your big picture window.
These features and amenities are offered in our Deluxe Stateroom:
Cabin Type: Twin Cabin (for single or double occupancy)
Cabin View: All cabins offer stunning river views
Stateroom Cabin size: 12m2
Bedding: Twin size bed
Quality Bedding and Linen
Comfortable luxury pillow-top mattress
Individual Controller Air Conditioning
Room Service
Mini-Bar
Complementary Water
Refrigerator
Coffee & Tea Maker Set
Mini Safe | Safety box
Wardrobe
Beauty mirror
En suite Bathroom
Own (Hot) Shower & Water Closet
Bath Cosmetics | Complimentary toiletries
Hair Dryer
Slippers
Daily housekeeping service
Nightly turn-down service
Smoke detectors
Emergency lighting